THE BEST TECH STACK FOR SCALING A SaaS BUSINESS
The most successful SaaS products and services start with great ideas positioned perfectly for their market, coupled with a culture of Customer Success. The next step is to put in place a great tech stack that allows you to take that model and scale it.
To answer the question, 'What is the best technology to underpin the SaaS business model?', we take a look at the technology currently being used by the world's most innovative and fast-scaling SaaS businesses today.
**Spoiler alert: It starts with the Salesforce platform**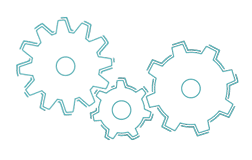 At Precursive, we work with businesses looking to scale, all of whom know that delivering Customer Success to every single one of their customers is critical. We see firsthand how super successful hyper-growth organizations are leveraging tech to scale.
In addition, in order to make sure we understand the market we serve, every year we collect and then crunch the data from our Customer Onboarding Survey, the industry's biggest benchmarking exercise. And every year, tech stack is an area that we really zero in on.
It puts us in a great position to report back on the platforms and tools required to launch, keep and grow customers. And despite the fact that the Customer Success market choice is complex, the industry-leading choices right now present quite a distinct pattern.
In short, what is the best SaaS scaling Tech Stack?
There are three key trends that we are seeing right now.
1) Salesforce is still the top choice of business platform.
Salesforce dominates as the CRM of choice for today's B2B technology-driven business. Larger and fast-growing organizations are still relying on this increasingly mature platform as their technology touchstone.
56% of all respondents to our 2019 Customer Onboarding Survey are using Salesforce, a figure that goes up to 86% across the Enterprise and Hyper-growth business segments.
2) Scaling fast? Invest in a specialist Customer Success Management platform
While Early Stage and SMB business segments are still relying on customising non-specialist tools e.g. Salesforce, to provide for their Customer Success Management needs, it's clear that the Hyper-growth business segment is investing in CSM platforms, with Gainsight as the most popular choice. And what's more, they are seeing value as a result.
3) Hyper-growth are proportionally the biggest adopters of Best-of-Breed Customer Onboarding tools
It's the Customer Onboarding-specific tool category that is still playing catch up. While it's true that businesses recognise the need for more automation, management, and metrics, their journey more often than not starts out with building ad-hoc onboarding capabilities within the Salesforce platform, plus spreadsheets rather than deploying a specialist onboarding tool.
From the data we are seeing in our 2020 Customer Onboarding Survey, it looks like this is about to change. Our prediction is that Customer Onboarding suites are about to tip into the mainstream for scaling SaaS as more businesses understand the true value these tools unlock in their existing Salesforce platform.
In the words of one Head of Onboarding at a scaling SaaS financial transactions business:
"Salesforce is a great CRM and you can do a lot with it. However, Taskfeed (Precursive OBX) is an extension of this and allows us to use Salesforce even better."
And one final thought on tech stack -
To come back to my original point, while the most successful SaaS businesses are using a great tech stack to scale, they also have a culture of Customer Success firmly in place
"I don't underestimate the importance of Gainsight or Salesforce but the right mindset has to be in place to maximize and optimize the tools."
Milena Kirandijaska
/ Director Customer Success UK, SAP Concur
Coming soon: The three categories of SaaS businesses
When it comes to scaling SaaS, we have found that there are three categories out there in terms of approach to technology. We will be covering this in more detail soon. In the meantime, take our Customer Onboarding benchmarking survey today and you will receive your own tailored report, including an assessment of your current tech stack set up.
Take the 2020 Customer Onboarding Survey today