PRECURSIVE OBX SUMMER RELEASE '20
The Summer Release of Precursive OBX brings a new name and lots of improvements to help you collaborate internally and with your customers.
TASKFEED IS NOW PRECURSIVE OBX
OBX stands for "Onboarding Experience". We feel this better describes how our customers are using the product to drive value for their business.
Precursive OBX is all about building repeatable onboarding and project playbooks, managing work for each customer and project, collaborating internally and with your customer.
The Taskfeed app now becomes Precursive OBX, Taskfeed Boards become Precursive Boards, and so on.
CONTACT ROLES
As we know how customer collaboration is important to you all, we have made a huge improvement in how you can work with and alongside your customers. You always run projects together with our customers so we wanted to provide a way to define your project team, including your customers and partners.
From this release, contacts can be added as board team members and task contributors. This will give you the full visibility of who is your project team.
NEW PLAN VIEW
The new plan view is now faster and more responsive and we just love the new scroll which allows you to move the timeline seamlessly. When you want to see a task that is outside of the timeline you are currently looking at, just click on the little bumper in the task row and the timeline will move you to the dates of the selected task.
BOARD TEMPLATES
Board templates are so amazing! Just build out a Board with its Lists and Tasks and set it as a board template. Create a board type for your new template and start using it.
Board Templates remove the complexity involved in scheduling your process in a spreadsheet, across multiple references, subtasks, durations, and lead/lag times.
For more advanced features like scheduling from Salesforce dates fields, you will be still able to use tasks and list templates.
NEW LIGHTNING COMPONENTS
Precursive is Lightning native and so we have created a number of Lightning components that you can embed into your standard pages. You will be able to add your boards and tasks components to your home page to see what's coming next at a glance.
Going to the Board page you will be able to add the board team and board stage components to see who is your project team and what is the progress. Then on the Task page, you will be able to log your time, see your time logged history, add checklists, and track the list path.
INLINE EDIT OF THE SIDE PANE
Edit multiple fields in the side pane at the same time with the inline edit!
Just click on any of them and start editing the details.
CROSS BOARDS DEPENDENCIES
For more complex projects with a hierarchy, you will be able to add dependencies between tasks on multiple boards which will allow having more control when a task from one board is dependent on a task from a different board.
To make it work, just enable this option on boards within the same board hierarchy that should refer to each other and then set up the predecessor on the task that is dependent on it.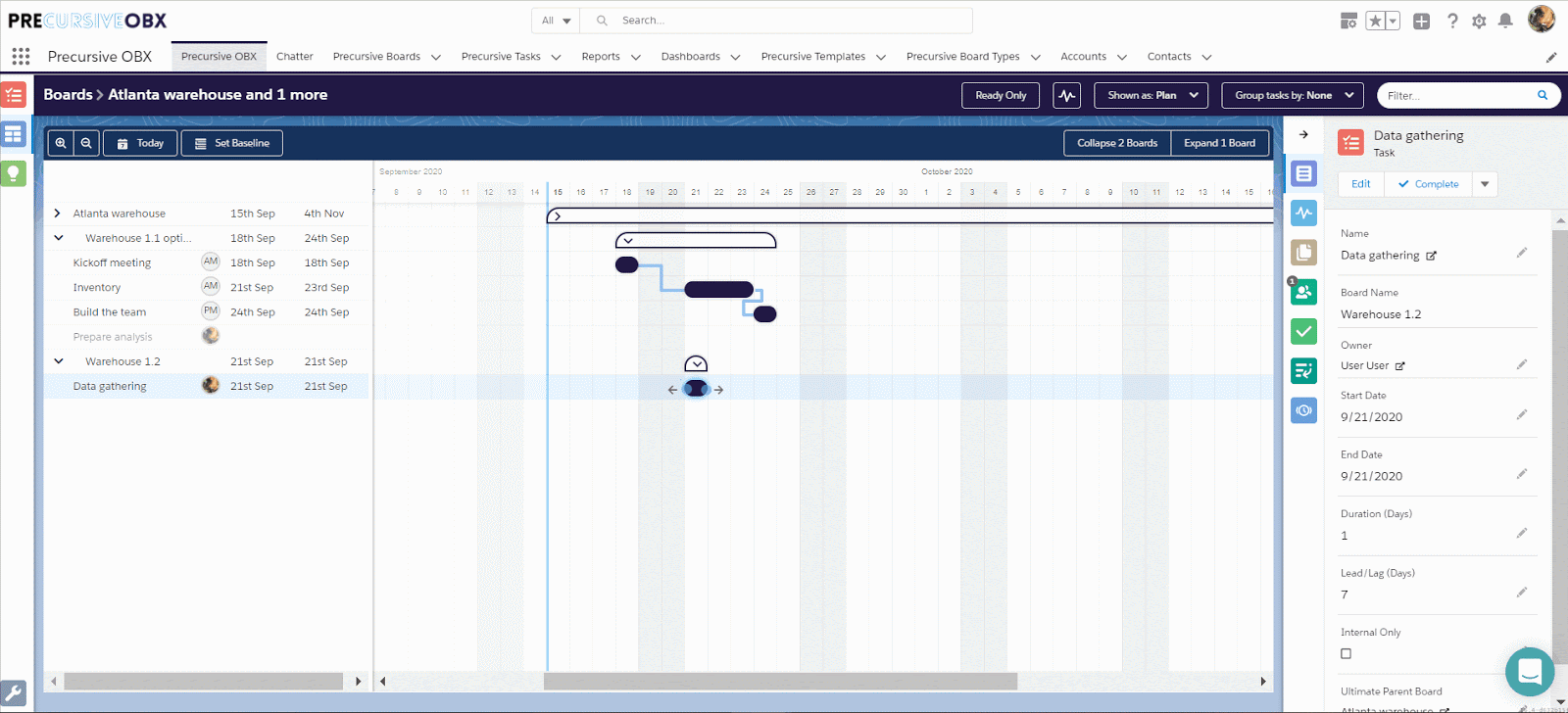 REPEAT TASK & LOCK SCHEDULING
From now on, you will be able to lock the dates of a task if you don't want it to be rescheduled based on predecessor changing. This can be useful when a date is set in stone and you do not want predecessors to impact its date.
For repeatable tasks like for example weekly customer calls, you can now start using the repeat task option. Just set up how often you want the task to be repeated and for how long. When you complete a repeatable task, Precursive will schedule a new one based on your setup.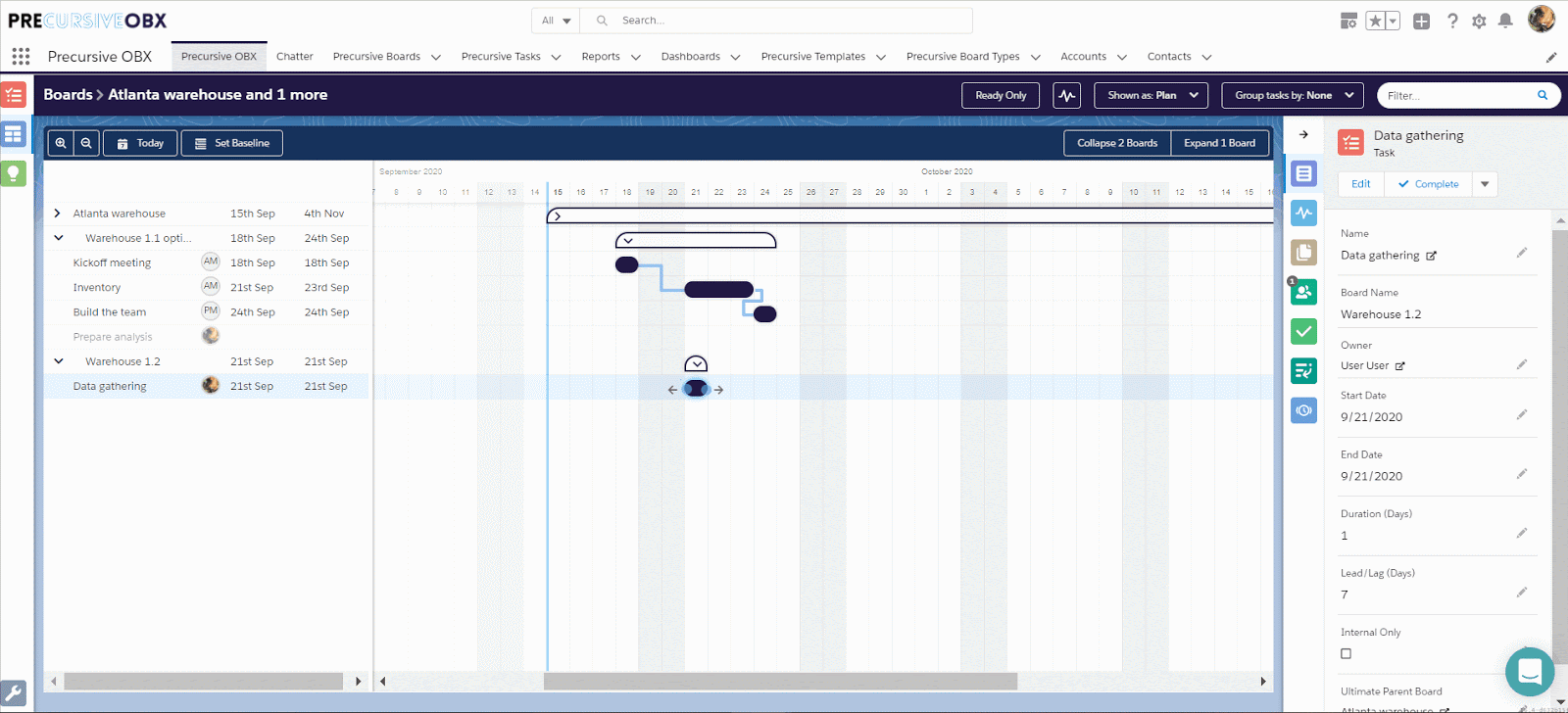 Find out more on the Precursive OBX Summer Release here or find out what's new on the full Precursive platform in the Summer Showcase 2020 here.