PRECURSIVE WINTER RELEASE '21
Updated: Feb 26, 2021
Our new Winter release of Precursive is now available and ready for you!
This release contains really great features that will help in your daily work.
These are...
From Precursive OBX:
📈 MILESTONES & MEASURES
🔮 ADVANCED COMPONENTS FILTERS
🎁 BOARD TEMPLATES ENHANCEMENTS
🥁 IMPROVEMENTS TO TEMPLATES IMPORT
⚡ NEW TEMPLATE PAGE FOR LIGHTNING USERS
✏️ CUSTOM FIELDS FOR BOARD TYPES
🌴 AUTOMATIC LICENSE PROVISIONING
From Precursive PSX:
📌 TIME CODES
🌌 CONFIGURABLE MY PRECURSIVE
🌴 HOLIDAY ALLOWANCE & REQUESTS
💸 EXPENSES
✨ APPROVALS
MILESTONES & MILESTONE MEASURES
Precursive OBX measures time spent on key Milestones for your Organization.
Just define your Milestones and mark Tasks that are indicating their progress. Precursive OBX will calculate the time between defined dates within a single Board to help your organization see the progress and if goals are met.
ADVANCED COMPONENTS FILTERS
Empowering our users is our specialty that's why we enabled the ability to use Advanced Filtering for displaying the most important lists of Boards and Tasks to your organization.
Using a single tool is a key to keep consistency across entire organizations but roles and their needs can be really different. That's why we are giving more flexibility within existing functionalities to allow the preparation of filters adjusted for everyone's' needs.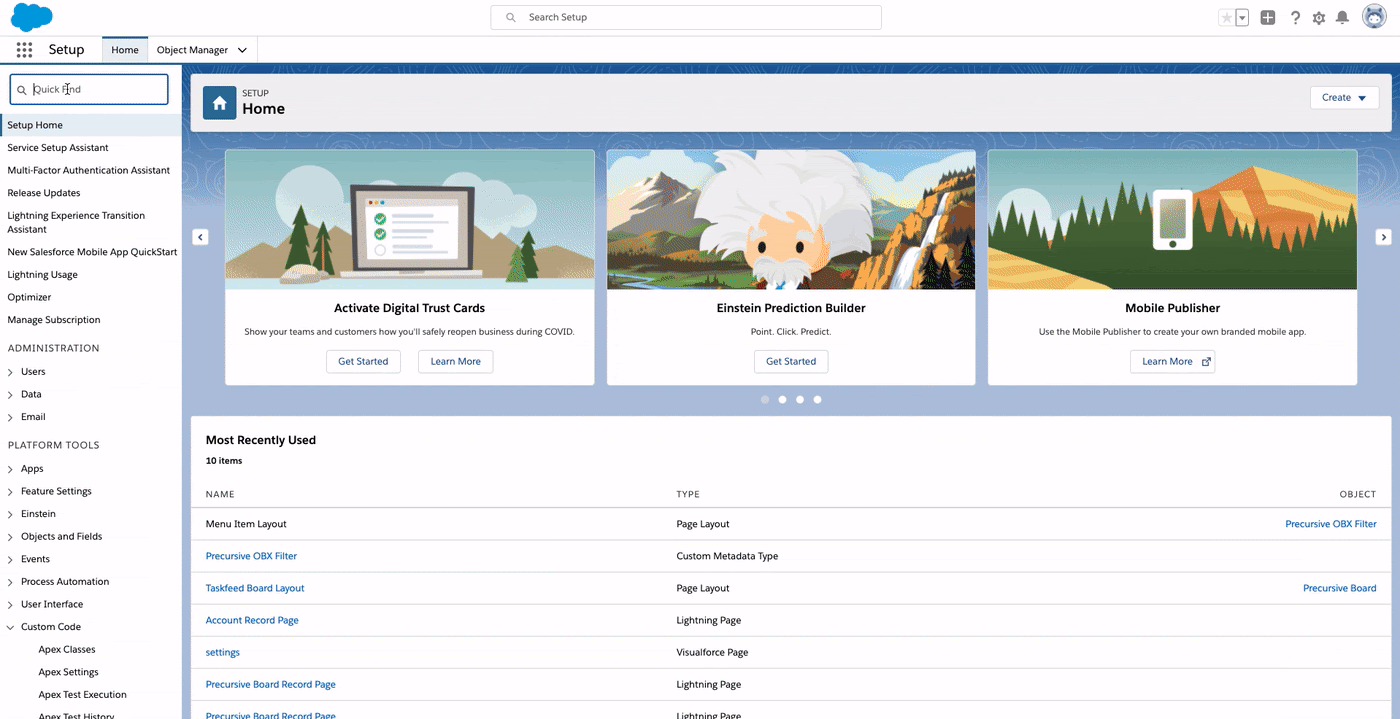 CREATE A BOARD TEMPLATE IN A FEW CLICKS!
If something works well, especially the process, it should be easy to repeat the way how it succeeds. That's why, from version 17.0, the ability to convert a Board into a Template will be available to give more repeatable outcomes with less effort required. This means that from now you can create a Template from Board or even use it as a Board Type.


IMPROVEMENTS TO TEMPLATES IMPORT
Template Import History lets you see which Templates have been imported into the Board. Now when Templates are Imported they will be queued and processed. This allows larger and more complex Templates to be processed and the Template Import History lets you see the status as each Template is processed. If you found you imported the wrong template or you have updated your template and want to import a new version you can now remove a template and all its tasks and import a new version.
TIME CODES
In Precursive PSX, Time Codes let you define what's billable on your project. Now, you can do it not only on the project level but also define which phase or activity should be billable or not. This allows the utilization and budget calculations to be more precise. Also, Time Codes can be configured in a way you can decide whether the time associated with them should contribute to revenue, costs or time in the project budget.


MY PRECURSIVE AS THE CENTRE OF THE UNIVERSE
The My Precursive page isn't just a timesheet anymore! Now it's a configurable page that allows you to set it up in the way you want your team to use it. We've also created a couple of components that we're hoping will make your everyday life much easier. Submit your timesheets, add holiday requests, log your expenses and approve items in one go from the new My Precursive page.
MY PRECURSIVE HEADER COMPONENT
If you are an Admin or Line Manager with access to view someone's timesheet, you will really enjoy this one! We have moved the resource picker from the timesheet to the header component to let you see all other components in the context of the selected person. Select a resource and you will see his timesheet, logged expenses, and holidays. Additionally, we've added a welcome message for your teams but if you want to have your own message, you can change it by updating the component details.
TIMESHEET COMPONENT
The timesheet has become now a component so you can even add it to your Home or Project page. Also, we have improved its design to make it clearer and easier to use.
HOLIDAY COMPONENT
Add and track your holiday requests from My Precursive. When requesting new holidays you can now save and submit them in one go. Apart from displaying your upcoming holidays, the Holiday Component allows you also to track your remaining holidays. To see the details of the holiday request, just click on the link and it will take you there.
EXPENSE COMPONENT
Add and submit your expenses from My Precursive, see what you haven't submitted yet or if your expenses have been already approved. The Expense Component by default displays the expenses created in the current month but you can easily navigate to older ones by using the arrows at the top. Just as on the Holiday Component, if you want to see the details of an expense, just click on it and you will be redirected to the Expense details.
APPROVALS
Life has never been easier for approvers than it's now! Preview your queue of approval items sorted by the oldest submitted ones. Just hover over the item to see the most important details and approve or reject items in bulk!
And if you prefer to look at the approval items from a bigger screen, use our new Approvals page. Here you can review the approval requests by types (timesheets, expenses, holidays). Reduce the admin, preview the details of each approval request and bulk approve or reject them!
IMPROVED SECURITY
This new release brings also a lot of security improvements related to the Create, Edit, Delete and View permissions as well as the Field Level Security permissions. If you are using custom permission sets or profiles and after the upgrade, you notice any issues with accesses, you might need to update the permissions on the permission sets and profiles to enable accesses to objects and fields.
To learn about the details of this release, check out the OBX Release Notes & PSX Release Notes. You can also watch our webinar on these highlights on-demand here.